Deck Maintenance
Over time the harsh Canberra weather conditions can cause your deck to lose its shine and look flaky and discoloured. Regular deck maintenance is the key to protecting your investment and keeping your deck looking as good as new all year round.
To ensure you get the highest quality finish the team at Canberra Decks will:
Pressure clean your deck
Clean your deck with a deck cleaner, removing any surface contaminants from the timber that will prevent decking finishes from evenly absorbing into the timber.
Apply generous coats of highly durable oil that will nourish & protect the timber.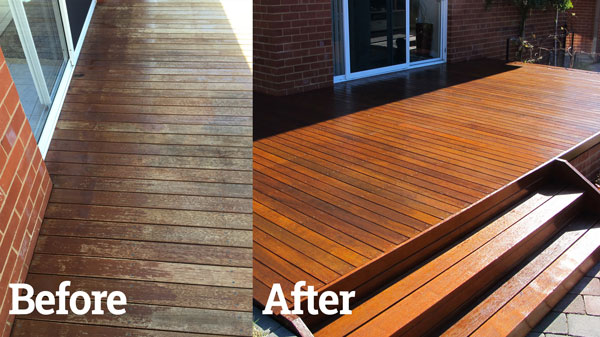 Prepared vs Unprepared Timber
Using a deck cleaner ensures the protection of your timber & longevity of the coating product being applied. It rejuvenates timber back to its original natural look to ensure an even finish when coating is applied, whilst also removing oils, grease, tannin bleed & dirt to ensure effective adhesion of your chosen coating.
Decking Oil Product Types
Oil based
Requires more regular maintenance
Matt natural finish
Penetrating and enriching formula
Oil modified
More durable and long lasting than oil based
Fast drying, easy wash up
Water based
Extremely durable and long lasting
Low sheen finish
Fast drying, easy washup